News & Events
Delaware Valley Fairness Project Donates to the Elkin Computer Lab
Jaribel James and Julia Quintavalle from the Delaware Valley Fairness Project presented Mr. Kasner with a check to purchase several iPads for the computer lab so the students can be actively engaged in lessons utilizing mobile devices. Thank you!

"2018" Safety Patroller of the Year
Solara Avila won the Safety Patroller of the Year award at a luncheon ceremony held on Tuesday, May 1, 2018 at the Raddison Hotel in the Northeast.
2018 Philadelphia TEC Expo & Competition
Solara Avila, Nicholas Irizarry, Zanaiz Gonzalez, & Mr. Kasner took first place in the Philadelphia TEC Expo & Competition held at the School District of Philadelphia 440 Broad Street building on March 23, 2018 in the elementary level digital movie category.
Open House
casa abierta
For the 2018-2019 School Year
para el ano 2018-2019
Tuesday, March 6, 2018 9-10 AM
Martes, Marzo 6, 2018 de 9-10 AM
Come meet the staff, learn about our kindergarten program, and enjoy some treats and refreshments!
Venga a conocer al personal, aprenda sobre nuestro programa de kinder y disfrute de algunos bocadillo y refresco.
Literacy Night
On Wednesday, February 21st 2018 at 3:30-4:30 in our Elkin Library,, Lewis Elkin will be hosting Literacy Night.  All parents are welcome come on out with your children and check out numerous literacy activities, make and takes, and an overview of our literacy web based programs.  Snacks will be provided and prizes will be given.
The Franklin Institute Visits Elkin:
Ms. Williamson, our very own science teacher coordinated a special visit to all the 3rd grade students at Elkin from the Franklin Institute to share the scientific properties of hot and cold.
December 4-10, 2017 acknowledges Computer Science Week
The Hour of Code started as a one-hour introduction to computer science, designed to demystify "code", to show that anybody can learn the basics, and to broaden participation in the field of computer science. It has since become a worldwide effort to celebrate computer science, starting with 1-hour coding activities but expanding to all sorts of community efforts! Over the past three years, the Hour of Code has reached tens of millions of students in 180+ countries.
This grassroots campaign is supported by over 400 partners and 200,000 educators worldwide. You can check out statistics on the global impact of the Hour of Code at https://code.org/about/evaluation/hourofcode.
To find all of our Hour of Code activities, visit code.org/learn. These are updated each year with new and exciting tutorials from new partner organizations.
Students from K-4 at Elkin writing basic code in the computer lab with Mr. Kasner:
Delaware Valley Fairness Project
Thanks to Edward Riehl, President and Executive Director and his team of the Delaware Valley Fairness Project, over $7,100 has been invested in student needs at Lewis Elkin.  Some classes have received basic materials while other classes have received tablets and computer accessories, such as an entire set of headphones for the computer lab so the students can focus on web-based reading programs.  We thank you very much and know the students at Elkin really appreciate your generosity.
Eagles Playground at Elkin "2017"

Lewis Elkin has been beautified.  Every student helped paint a huge mural that wrapped around the perimeter of the school with images reflecting the growth and future of the Elkin children.  An entire playground was installed in the recess area of the school.  The entire Philadelphia Eagles organization came to Elkin to help paint and play with the students during this amazing day: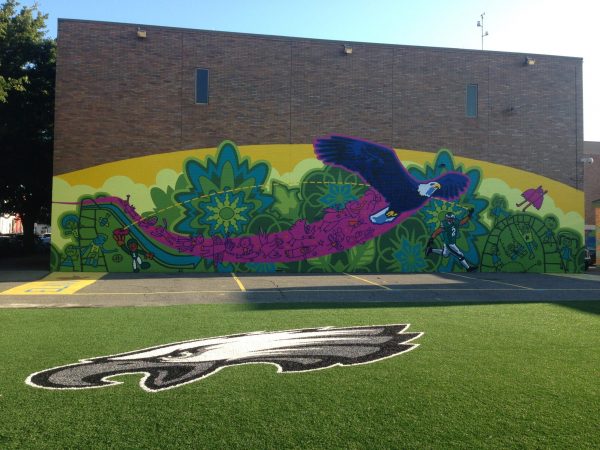 Safety Patroller of the Year 2017
Congratulations to Joselyn Sanchez from Room 210 Grade 3 for winning the Safety Patroller of the Year.  She was acknowledged and presented with a glass personalized plaque and a Visa gift card at a special luncheon located at the Raddison Hotel in Trevose PA on Tuesday, May 2, 2017.  Sue Serio, weather anchor woman from Channel 29 Fox news presented this very prestigious award to Joselyn.